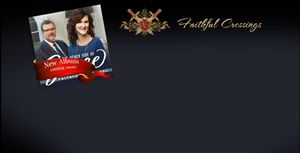 What Others Are Saying...
"

I have always loved your music and your great family harmony! More importantly, I have always felt your love for The Lord coming through your music."
— Cathie Paxson- Gospeltown Records
"

You all have dynamically led our congregation in a 3-day revival two years in a row. You relate well with our children, youth and adults. The Lord blessed us through your musical talent, testimony, and leadership."
— Rev. Lee Rodgers- Pastor Pelican Baptist Church
"

Tammy and Curtis were a delight to have for our homecoming service. Talented musicians with a meaningful ministry behind it. Highly recommend them for anyone."
— James Johnson- Music Minister -Armuchee Baptist Church
Exclusive Interview with Rodney Baucom on the Gospel Greats
About Our Ministry
Faithful Crossings are Nashville recording artists with multiple charting songs, powerful testimonies, and lyrics that remind you of God's great faithfulness.  
A multi-faceted ministry:
You may know Faithful Crossings from hearing us on the radio, but that is just one facet of our ministry.  We are more than just singers or songwriters; our ministry is focused on reminding people of God's great faithfulness through song, testimony, stories, and preaching. We are available for concerts, revivals, seminars, retreats, or any other event where you want more than just music.  In this post-Covid age, we are finding that many churches want to have great music but they also crave a message with that music, and this is the true heart of our ministry!  Co-founder, and tenor vocalist for the duo, Curtis Sumner, has recently surrendered to the call to preach and God is already opening multiple doors; we are excited to see where God leads us! 
Our roots run deep in Southern Gospel music:
For many years, Alabama was home to Curtis and Tammy Sumner.  Tammy's grandaddy pastored a church on Sand Mountain, AL (the homeplace of Vestal Goodman and the group, Alabama).  Tammy toured and sang with her family group for many years.

Faithful Crossings' latest CD, "Farther Down the Road," was produced by the legendary, multi-award-winning, Les Butler (past editor of Singing News Magazine).   This recording featured guest vocalist- Karen Peck Gooch (of Karen Peck & New River) and an all-star lineup of Nashville Musicians and top songwriters in the industry!  This album has had multiple charting songs and we are preparing to go back to the studio for a new project.
Our music is intertwined with stories of God's healing, hope, rescue, and provision.  The songs are a combination of original songs written by us or top industry writers, mixed with some beloved songs that your congregation will recognize.  All of these work together to touch hearts both young and old.

Faithful Crossings has also been blessed beyond measure to have been able to share the stage with some of Gospel Music's great singers, but our greatest honor has been to see the lives that are changed through our ministry!
The stories behind the songs:
The stories (testimonies) we share in concerts and events are true.  Some are miraculous stories of healing or salvation, and some are stories of forgiveness and dealing with adversity, but all are very real and powerful examples of God's faithfulness.  These stories are also available in a book titled, "He is Faithful" and includes stories from other artists (Lynda Randle, Aaron Wilburn, Les Butler, Ann Downing, and many more).  The book is made available at each concert and on our website along with a journal where you can write your own stories of God's faithfulness in your life, and pass them down from generation to generation!
We are excited and humbled that you would take the time to read about us today and consider us for your church service or event.  Please feel free to browse our website and find out more information about us.  To book us, please fill out the "Inquiries" form below, or you can call our booking line at 615-782-9293.  We hope to hear from you soon!
CALL OUR BOOKING LINE AT 615-782-9293
Or, fill out this simple form and we'll return your call!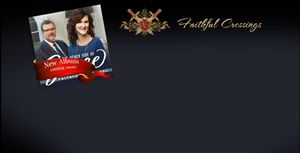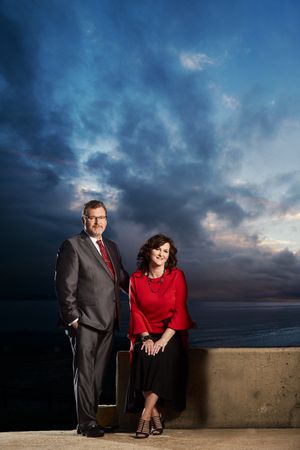 Videos
Just Can't Wait- lyric video
We were blessed to have the beautiful, award-winning voice of Karen Peck Gooch on this song with us, and radio stations around the country are playing and charting it!  The song was written by Jonathan Montgomery, produced by Les Butler/Butler Music Group with music by Nashville's top award-winning musicians.  Most of all, it reminds us that the troubles of this life are just temporary!