For years, Faithful Crossings has been known for their rich, family harmonies and their powerful testimonies of God's great faithfulness. Their music is fresh and unique with a little touch of bluegrass but with deep Southern roots.  It spans the generations, touching hearts, both young and old.  
Their style of Southern Gospel has deep roots in the traditional sounds of the Rex Nelon singers,  Hemphills, and Gold City but with a breath of new life.  Adding acoustics rather than orchestrations and vocals that are not stacked and over-produced.  Their newest CD, "Farther Down the Road" has garnered multiple charting songs.  The title track, "Farther Down the Road," crossed over to the Singing News Bluegrass charts and climbed to #13, and was played on the Les Butler & Friends Bluegrass Gospel Radio Show countdown. Curtis' personal testimony song, "God Knows," climbed to #51 on the Singing News Southern Gospel charts. Their most requested song,"Shepherd of My Soul" climbed to #46, and their most recent song (featuring special guest Karen Peck Gooch) reached #50 in Singing News charts! 
They have been featured on radio and television stations across the country and played on The Gospel Greats, Gospel Music Today, Gospel Radio Favorites, and more! Their newest single, "Timeless" has just been released and is already getting airplay across the country and abroad!  
Faithful Crossings is based in Kansas City, MO but travels across the US. 
The History of Faithful Crossings
We are now in the fifteenth year of ministry and while we are still a relatively young ministry, we have been blessed beyond measure to have been able to share our message in song with people all over the United States.  We have been nominated for multiple Diamond Awards and have had the privilege of interviewing and performing on live radio and TV stations all over the US.   Faithful Crossings has also performed multiple times at the National Quartet Convention, and have had the opportunity to share the stage with many of Gospel Music's great singers.

The ministry of Faithful Crossings was started by husband and wife team, Tammy and Curtis Sumner back in 2006.  After years of ministry together, they believed that God was calling them to begin a new ministry, based on God's faithfulness.  Tammy had been a member of the all-female Southern Gospel quartet, Sweetwater Revival and both Tammy and Curtis had been on worship teams for many years but a move from Minnesota to the foothills of east Tennessee gave them a new vision of ministry and that was where Faithful Crossings got its start.  They prayed and sought a name that would express the heart of this new ministry and because God had always been faithful to them at each and every crossroads of their lives they chose the name "Faithful Crossings."

In the early days, it was just Tammy, Curtis, and their two children, Christian and Lauren.  They soon cut their first CD titled "God's Got a Plan" on the Church House Music record label and began to tour locally and in nearby states as well as making their debut at the National Quartet Convention.
| | |
| --- | --- |
| |   |
|   |   |

As time passed on, the Sumner family found themselves leaving the foothills of Tennessee and moving to the Orlando, Florida area.  The move proved to be a good one for Faithful Crossings and, as their ministry's reach began to expand, so did the group.  In 2008 they added Al Mercer as bass and, soon afterwards, they added Lisa Nielsen as alto.  This was a blessed season of Faithful Crossings as they booked more and more concerts and were blessed to sing at the National Quartet Convention for the second year.

In 2010 Lisa had to step down from the group to spend more time at home with her children, so Faithful Crossings added long-time friend, Joe Loaring, as baritone and kept moving forward as they cut a brand new CD titled "Grace" (the title song was written specifically for Faithful Crossings by the late Tom Burress). In addition to the new CD, Faithful Crossings had their first annual Homecoming featuring the LeFevre Quartet. 
 

In November 2010, Tammy was expecting their third child and, through complications of pregnancy, had to cancel the remainder of the concert dates until the end of the pregnancy.  Their child was born one month early, in February 2011 but with many health complications- many more concerts had to be canceled.  Then, in June of 2011, because of the terminal illness of Curtis' father, they chose to move across the country to Missouri to be closer family.  This would mean that both Joe and Al would be staying behind in Florida and that there would be a new season for Faithful Crossings.

Through both sickness and death, it was a season of waiting on the Lord and seeking His will for the ministry.  God was faithful and although He sometimes tells us to wait, we can believe that He has it all under control and that all things will work together for good...   We've walked through the valley of the shadow of death... we've been parched in the desert and we've climbed up the mountain top and we can still say, God is TRULY Faithful. In 2016 we embraced, once more, the sweet family harmonies and combined our voices with our daughter, Lauren, to make up the new Faithful Crossings.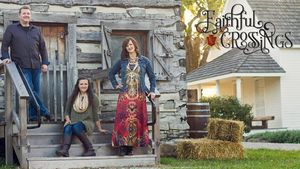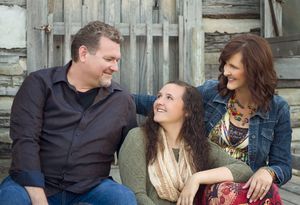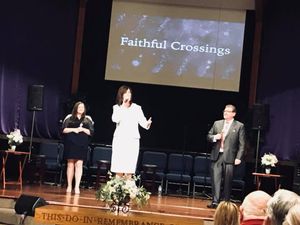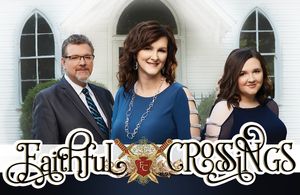 2019 was a busy year.  We traveled and sang in 12-14 states and finished the year out busier than we had ever been!  Life on the road, especially when you are bi-vocational, is hard and at the end of that year, Lauren decided to step down from her position with Faithful Crossings to spend more time in our home church working in the music and children's ministries there.  
By early 2020, the Covid-19 pandemic led to most of our concerts being canceled.  A feeling of hopelessness seemed to permeate people across the country, as churches closed their doors in fear.  One thing that this time taught us was that people need hope.  People need to be reminded that God is STILL faithful, and this fueled our ministry even more.  As we prayed and sought God's will, we found that He was refining our ministry.  Then, in September of 2021, after Tammy's personal battle with Covid, and many hours of prayer, we made the decision to restructure our ministry as a duo.  The stories we tell are very personal and the ministry that surrounds those stories needs to be very personal.  God blessed this decision as more and more doors have begun to open.  A new direction has emerged to our ministry, with new opportunities to tell of God's faithfulness.  We are writing new songs for an upcoming project, and we have put together a new "Write Your Story" set to encourage people to tell their own stories of God's faithfulness.
To book Faithful Crossings for your church service, revival, seminar, retreat or event, visit their CONTACT page.